At every camping scooter rally there is at least one guy ripping around on a knobby tire clad old Vespa. He slays the gymkhana and has way more fun than anyone riding a nice looking restored scooter does. Maybe because my two wheeled background is firmly planted in dirtbikes, or it could be the fond memories of ripping a Vespa moped (yes moped with pedals) around mountain bike trails as a teenager, I have always wanted to be that guy. This isn't going to be a guide to make a sweet Dakar spec rallye race scooter, rather just quick and easy set-up to rip-up some dirt on an old Vespa. I do plan to do a crazy Dakar style Vespa one of these days, I am sure the scooter that will get that treatment is already in my garage.
Getting Started
I'm going to assume you already have a scooter to do this with. In most cases it is a Vespa P-series or a Stella, but really any 10" wheel vintage Vespa would be able to follow this guide. If you have a twist and go scooter you'll have to do your own homework for tire sizes, the only scooters I ever want to own are manual transmission Vespas (or maybe a Lammy someday). Really the only thing that is being changed is the tires and wheels.
Tire Selection
The standard size 3.5"x10" tires that these old Vespa's call for lack any options in the United States for off-road tires. I had hoped to find a tire like my old Honda Trail 70 used. A blocky 50/50 tire, something like a Bridgestone TW1. My search of United States based supplies came up empty. Looking at Sip-Scootershop it appears in Europe Kenda and Duro offer 50% off-road tires in this size, so they exist, just not in America. I have turned to the more common mini-bike sizes 2.75"x10" tires. These are available from all of the major tire manufacturers as a front tire for mini-bikes and are a very aggressive tread pattern. I have no doubt any of the offerings from the major tire manufacturers in this size will work fine on a Vespa. I went with the Pirelli Scorpion MX eXtra J in 2.75"x10." This was solely based on my preference for Pirelli tires, they have always served me well in the past and the brand is my goto for tires. The downside of running this smaller sized tire is a shorter sidewall, the 2.75"x10" has a measured diameter of roughly 15" this is compared to the 17" diameter of the stock 3.5"x10" tire. There is no denying running a 2.75" width tire on a stock Vespa rim is wrong, possibly slightly dangerous, but this isn't going to go too fast anyways. Do this mod at your own risk. I used a set of old rims, that were slightly rusty for this tire swap. I did a quick wire wheel and spray paint repaint to be classy. With the tires mounted onto rims, you are ten lug nuts away from knobby tire goodness. The new tires mounted on old rims with old second hand tubes stung my wallet less than $100.

How does it ride?
What is it like to ride, this should be the big question. What does mounting massively wrong tires on a Vespa actually translate to when going down a road. In my case I used my tired old Stella as the platform for this. The first time out my buddy was having a hog-roast and cut in some dirt-bike trails in his yard. Everyone was surprised how well it performed, it went over some 6"-8" logs, it cleared the course with me just being worn out from hustling it though the trees. A month or two later I used it at the Touratech Rally, this was a much better test. I had set-up and supervised a small 1/3 mile woods course designed for adventure bikes. This gave me plenty of time to learn what a Vespa (or Stella in this case) could do in the trees.  
Torque
The first thing I noticed is the lower gearing by way of smaller tires. It wheelies in the dirt very easily, and controllably even with a worn out engine. The lower gearing (via smaller tire diameter) does make first gear almost useless above a walking pace. In tight trails it was geared just right, I could stay off of the clutch, lug it when it was tight, and rev it out when I had a straighter line.
Traction
The traction was also really something to note. This is a vintage Vespa scooter I was riding, designed to take ladies in skirts shopping or ferry business men to meetings in Italy. Besides digging in to wheelie, the knobby tires also provided amazing drive forward and off throttle front grip. I say drive forward because it would unweight the front enough when on the gas to negate any steering input. In a hairpin turn that I would normally gas and use the gas to slid the backend of a dirtbike around the turn, it just went straight into a tree. Maybe with more power I could spool it up and back it in like a KTM.
Ground Clearance
We all know the engine is on the right side of the scooter, just hanging out there. The traction was good enough I was comfortable caring some speed through the turns. I found a small 3" stump with the scooter leaned to the right, taking a line the tires would have cleared. I stopped dead, the kickstarter was a bit bent, but no real damage. I learned to be more careful with my lines to account for the engine as well as the tires. That extra 1" of lost ground clearance might have been nice to have. 
Gravel Roads
As I have mentioned, almost too much traction to the rear wheel. The effect on a gravel road was massive understeer, like a front wheel drive car. If you were on the gas, or even just not on the front brake, the front-end simply didn't respond. Your handlebar inputs didn't translate to any change in direction until you tapped the front brake, then you had plenty of grip. Normally at that point you were probably too far turned in and had to deal with the front-end trying to tuck. All together it was a weird handling quirk, but I did manage to get used to it and ride around it.
Paved Roads
Simply put this set-up sucked on the pavement. Who would have thought front tires designed for dirt only use on the front of a mini-bike with a kid on it would suck on a 220lb scooter with a full grown man on the pavement? They sort of floated around at speed, in a super squirrelly fashion. The lower gearing noticeably reduced top speed, not that you really wanted to go faster. The speedometer on my Stella doesn't work, but I lost noticeable top speed, down to maybe 40 mph top speed on the flat.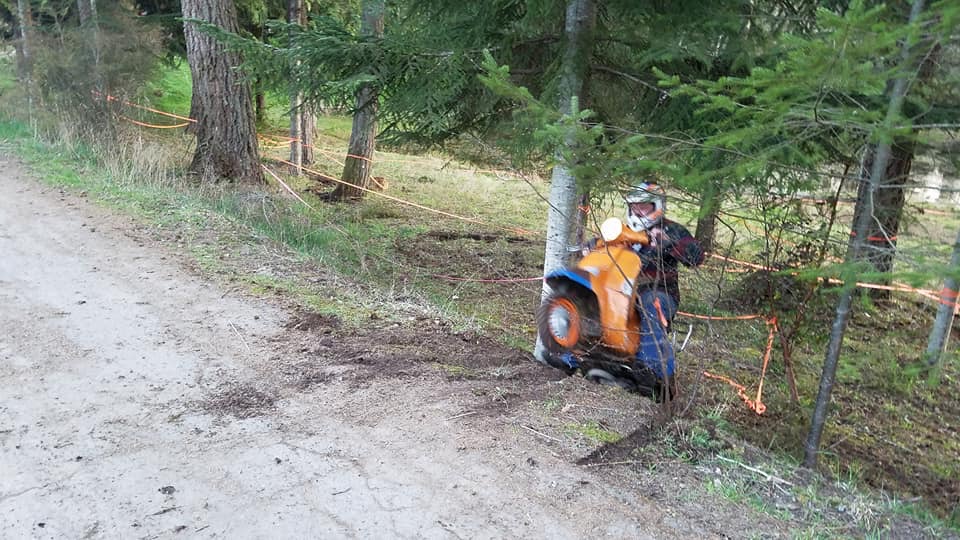 Final Thoughts
Should you do it? Would I do it again? Yes to both questions. If you are going to play in the dirt, or even an open field this is stupid fun! The tires are cheap, you probably already have spare rims, if not rims are cheap too. Ten lug nuts to swap to this set-up and have silly dirt times is totally worth it. Now I really want to build a full on dirt scooter!
-Eric Archambault