In the few weeks since I bought this truck I have been on the rollercoaster of regret and happiness. Regret of what I got into and happiness of the potential I got myself into if it works out well. Driving home I realized only the shitty aftermarket gauges work, the steering was a mess, and front drum brakes suck. The "fresh engine" smokes on cold startup, probably the valve seals leaking. I am sure the engine might have been fresh when I was still in high school. I knew better when I was buying this. The doors that "just need to be alined" were shimmed to hell and back, the reproduction doors are garbage that simply don't fit. The seat isn't worth recovering, hence the shitty cover. The gas cap would let gas spray out in right hand turns with a full tank of fuel. The Edlebrock Performer carburetor is the model 1406, the down jetted "Fuel Economy" version. Nothing says badass "Loud and Fast" truck like a fuel sipping carb. The windshield is fogged between the layers of safety glass, and a large chuck of weather stripping is missing. Both the front and rear glass will have to be replaced. I can continue to bitch about the electrical mess and other issues, but it is pretty much bumming me out to think about.
Before I had time for too much thinking (or for making plans to quickly dump this nugget) I ordered the front disk brake conversion kit, complete with new tie-rods. The better part of a month later they have just now shipped out. Any which way that should fix the braking and steering issues. I have replaced the speedometer cable, so now the speedometer works. I ripped out the old, not hooked up tape deck (there were no speakers to be found), and pulled out a few yards worth of wires going no where from under the dash. The pedestal mounted 3-3/4″ Autometer Street Tach from my old truck is now mounted to the steering column, augmenting the non-functional dash unit. The seat from my old truck is now installed, almost a direct fit, but sitting slightly higher. The terrible "New Car Smell" air freshener has been found and removed, old trucks should smell like old trucks. The trio of uncapped vacuum ports coming off of the intake manifold were capped allowing
the engine to run better. I have also removed the broken Warn winch. As well as the ghetto, welded poorly by a drunk child front bumper. New to me factory GM 1967 Chevy doors have been sourced, they fit and function correctly. The front driver-side fender has been repainted OD Green. The driver-side bed has received some bodywork and a few coats of the same OD Green. I have added a 16″ deep Delta truck box to make up for the lack of in-cab storage with the fuel tank behind the seat. A driver side door mirror had been installed, the passenger side mirror is awaiting the correct bracket to be sent from the manufacturer. At some point in this span of time I also replaced the distributor cap and rotor, spark plugs and wires, turns out things work better when you are not melting wires on the exhaust. There have been other little things done too that I am failing to recall. Ultimately this truck is starting to feel like my truck, even with it's current patch work paint and overall poor mechanical condition.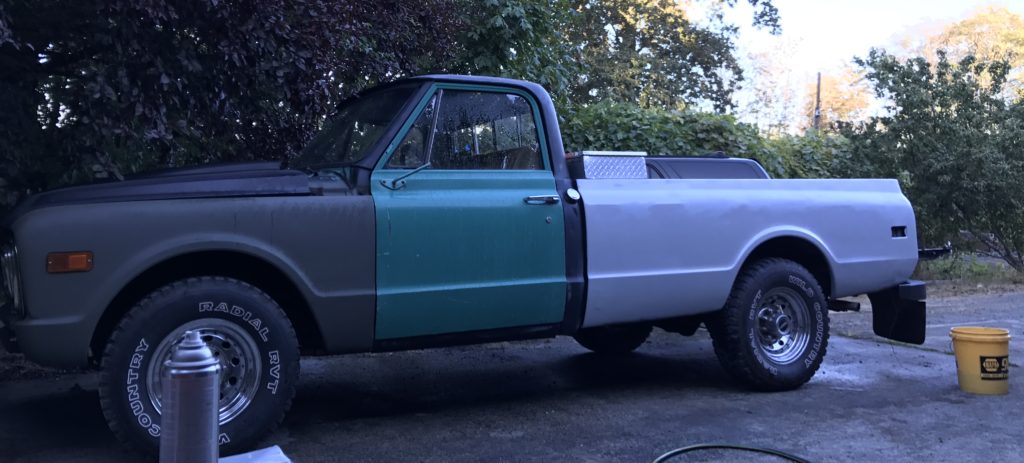 On the eve of my birthday it developed a runablity problem, likely carburetor related. To be honest I have only tired an Italian tune-up to fix it, with mixed results. I have my old, strong running, engine ready to install. This coming weekend I will likely start that project. Anything with a V8 and a manual transmission should be able to smoke the tires, not just barely be able to out run a tired 1970's Vespa P150.
So to sum up. The truck I bought is still a bit of a shit box, but also looks cool and I haven't given up on it's potential. It's slow, and I need to shake lots of time and money at it still. At the moment there is close to $2,000 worth of parts either in transit or awaiting installation. So it is fair to say I have started to empty my wallet. Until I put the time in I can only claim to make minor gains. In the next few weeks it will get the strong engine and fresh clutch out of my old truck, that combo did smoke the tires. It will get disk brakes on the front, new tie rods, fresh rear brakes. The Michelin LTX tires mounted to classic white 8 spoke steel wheels off of my old Chevy C20 will also be following the engine onto this beast. Slowly it's turning green, the color, not whatever it is a small block Chevy with a dual plane intake and bigger carb does to the Earth. I have a bigger plan, but I will get into that soon.
Good luck out there, have fun, and Godspeed.
-Eric Archambault