1979 Vespa P125X – Knocked Out
After the saga of the finding and rebirth of my 1979 Vespa P125X, I feel like I need to add another chapter. Unlike the earlier posts, this chapter will not end well. As predictable as it may be all things considered, that nagging worry in the back of my head proved to be correct. By any measure the P125X was a barn find, probably for the second time in it's life. After more than a decade of sitting unused I rescued, and brought back to life this Vespa. Having dealt with many old two-stroke machines over the years, I was weary of the main seals. Seals do not like to sit, and their failure can ruin a motor. I checked my plug often, looking for the warning signs on impending doom, but there were none.
The first weekend in May is the Top Dead Center Scooter Club's annual Oregon 100 Rallye. I was hoping to have my 1976 Vespa Sprint Veloce (with a freshly rebuilt souped up P200E engine) ready to go, that didn't happen. The Urban Assault Scooter (my 1979 Vespa P125X) was tagged in. With weeks of commuting, and 200 miles logged since I resurrected this machine I was feeling good. As I mentioned I had been watching he plug, the tuning seemed fine. It was faster than I expected, even with my 230lbs abroad it pulled a GPS recorded 53mph in third gear, and 62mph while still pulling in 4th. I was feeling confident about this machine. I also knew I had not run it for extended periods at high RPM's, 15-20 minutes at a time was the extent. Because of that I knew I was gambling going into a 100 mile rallye without testing in rallye conditions. I still felt good, I gave myself decent odds.
The Top Dead Center Scooter Club puts on an epic rallye, I love that there are still a few old-school road book road rallies out there. On Friday I caught a ride with my friend Katie in her truck down from Seattle, WA to Eugene, OR. There were no issues going to and from the meet and great, and after-party on Friday night. In a sea of awesome, super clean, vintage, metal body, Lambretta and Vespa scooters, the camouflage on my Vespa P125X still drew attention. People understood the silly paint job, vintage scooters don't always have to be serious.
Saturday started at a bar, like most scooter rallies, for breakfast. After grabbing my number and rally pack, I found food, and made notes on my roll-chart. Since I was ready to go I was on the first minute out, I signed up for the 40mph average speed class. I was told this would be hard to meet, but I had faith. I've always better at the "go as fast as you can" type of timekeeping enduro riding anyways. After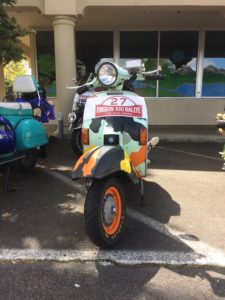 working though some neighborhoods I ended up on a fast hilly road. Fourth gear wide open starts to happen. I was caught behind a minivan for a few turns, then really let the Urban Assault Scooter stretch it's legs. From what I had learned running a GPS before the event (GPS units are banned during the event) I knew I was running the engine hard, clocking north of 60mph at points. Coming down from the hills into farm country the engine ran away a little coming to a stop. A few blips of the throttle kicked it down while I waited for Katie on her stock Stella to catch up. This running away engine was a harbinger of what was coming. Deep down I knew that. I hoped things would slow back down soon, and the engine could cool enough to keep going. They didn't slow down, and I didn't back off either. Less than a mile down the road, just before cresting a rise, fourth gear pinned, the engine cut out. Then it seized, I pulled in the clutch and coasted. Fifty yards or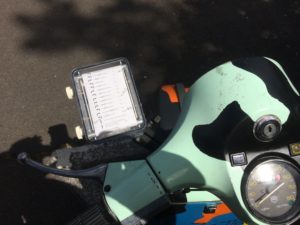 so later I let out the clutch, breaking the engine free and re-firing it. I quickly pulled over, and the kill-switch didn't work, so I stalled it in gear. Knowing that the jetting hadn't changed I did the only thing I could think of, I backed out the fuel mixture screw some more (in hind sight I should have also pulled out the choke, which is really an enrichening circuit). The smart thing to do at this point would have been to call it quits then and there and not risk more damage to the engine. I knew deep down that the main seals had expired, they were not going to heal. I'm not a quitter, and I figured If was going to rebuild an engine I might as well get every last breath out of it. So with a futile carburetor adjustment completed I press on. Predictably I only made a few more miles before the engine gave up the ghost. I coasted to a stop, tired to re-fire without any joy. I backed the fuel mixture screw out more, and swapped the plug, still no dice. It took another ten minutes before I admitted defeat. Calls were made for a pick-up, the sweep truck was already full with another seized scooter and a crashed one. I was going to have to wait for Goof, who was working a checkpoint to double back for me. I moved my roadbook to Katie's Stella, so she could try to salvage her ride with a heavy time penalty due to the time waiting for me to accept failure and yet another DNF to my name. After a while I got picked up, and the rest of the rally was awesome.
That night there were plenty of drinks, arcade games, pinball, good music, and fun times. The Urban Assault Scooter died with it's boots on. This is not the last chapter in it's saga, I will rebuild it. It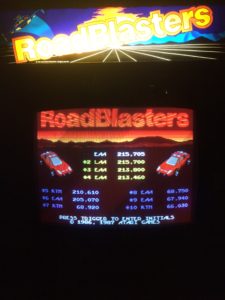 will be rebuilt better than before, faster, and with a cylinder head temperature gauge. Flogging untested vintage machines like they owe you money often leads to this end. It is a natural progression, the next iteration will be better, and there will not be any "unknowns." The components will be inspected, and the seals will be new. Use every ounce of what you have to work with, engines are rebuildable. There is a special joy in experiencing the last breath out of an engine, embrace it, you'll be rebuilding anyways. This isn't the first engine to expire under me, and I am sure it will not be the last. Good luck out there, have fun, and Godspeed.
-Eric Archambault