New Addition: 1979 Vespa P125X
Like most great stories this is a bit of a long one, grab a beer and here we go…
I wasn't looking for a scooter to add to my garage, I was just bored surfing Craigslist.  Times like this I normally search "Vespa," "KTM," and a few variations of "Husqvarna."  I spotted this 1979 Vespa P125X on a Friday.  It was wearing a non-stock paint color, had some old go-faster parts, was missing some bits, was not currently running, promised a title, and most importantly to me priced wrong.  A complete, original, running, titled, survivor would command the asking price during the nice weather, this case was way over priced factoring in it's condition and with the last Seattle snowstorm still melting off of the ground.  I made a mental note and moved on with my day.  On the following Monday I noticed the ad was reposted.  To me this said the seller was desperate to sell this Vespa and grab some cash.  This peaked my curiosity and lead to me contacting the seller.
I send a polite and properly formatted email to the seller stating I'm interested in this 1979 Vespa P125X.  I also ask the important series of questions.
"Is the title in your name?"
"Did it run when parked?"
"How long has it been sitting?"
"Does it currently have spark and/or compression?"
I get a quick response back.
The title was never transferred from his buddy he bought it from, but he contacted the Department of Licensing (DOL), and had all of the paperwork to transfer it to me.  He offered to go to the DOL with me to do the transfer.
Yes it ran when parked.
It has been sitting for a few years in a garage.
It felt like it had compression, but there was no information on spark.
This is where I went a bit out of character for me, I made a lowball offer via email.  I generally have rule about not making lower offers when not looking at a machine, and have never made an extremely low offer.  This time I did.  I offered less than half of the asking price, then wrote a long email explaining the current vintage Vespa market in the greater Seattle area.  I gave examples, and said my offer would likely stand for a few weeks if he wanted to try to wait it out, but that I suspected he would end up selling it for the price I was offering.  This was a bold move, if I was not confident I was correct in my option I would not have done it.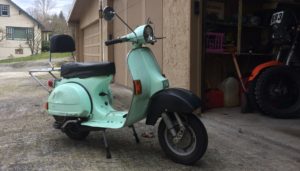 Anyways, the next day I saw the price go down on the ad without an email back from the seller.  Two days after that I received an email saying "You seem to know a lot more about the vintage Vespa market that I do.  I'll trust your option, when can you pick it up."  We set it up for the weekend that was a few days away.
When I first inspected the scooter it was pretty much what I expected, it looked like the pictures.  It had compression, and the cables were sorta stuck.  There was a box of parts that included most of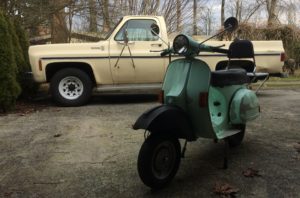 the parts those that were missing in the pictures.  I gave him the agreed upon money, loaded it into my truck, and we headed to the DOL.  We hit a snag there, since the WA DOL is a government agency, and well, not very good at their job.  I was confident this Vespa was of legit pedigree and took it home to sort out the paperwork later in the week.
Once in my garage I flushed the half-tank of stale gas, cleaned and rebuilt the carb, and installed in a new fuel line.  With a fresh battery installed it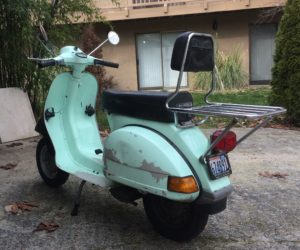 started easily.  The next day, a Sunday I freed the sticky throttle and shifter tubes and took it for a spin.  The 177cc top-end, and regearing gave the performance I would expect.  Less than 48hrs in my care this was a running Vespa again.  I wrapped up the DOL paper work during the next few days and this scooter would soon undergo it's next round of rebirth.
Keep toiling in the garage, and scouring Craigslist for the next project.  Be safe out there, have fun, and Godspeed.
-Eric Archambault