Alex Martens at Konflict Motorsports is a suspension wizard, there is no other way to put it.  I normally do all of my own maintenance, I've split the cases on my LC8 to repair a transmission issue no problem.  I've replaced more fork seals than I care to count over the years.  Beyond that, even knowing the concepts of suspension tuning, I am out of my element beyond just rebuilding to factory specifications.  Simply put I am a mechanic not a tuner.  That being said my suspension will always go to Konflict Motorsports from here on out.  A couple of years back I gave him the suspension off of my 2005.5 KTM 950 Adventure.  The result… Wow!  There is not much else to say.  Stock the KTM 950 Adventure is better than any bike in its class, but after telling Alex to "Make it what it should be" it was a new beast.  I was faster, everywhere.  On road it didn't squat during acceleration, the wallowing in corners was also gone, it just dug in and went.  Off-road, well I am not an articulate enough rider to describe the improvement, game changing to say the least.  My suspension did what it should do, it did what I didn't know suspension could do, I was faster, it made me a better rider.  That year, in 2014, I found myself standing on the podium with a second place finish at the Stumpjumper Desert 100 in the Adventure Bike class.  I have no doubt without the suspension work Konflict Motorsports did I couldn't have pushed my KTM 950 Adventure as hard as I needed to get that result.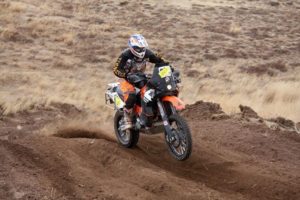 The next year, after thousands of miles of additional riding, I raced the 2015 Stumpjumper Desert 100 for a second top ten finish in class.  A few months later I was riding with Alex and he said I needed to get my suspension back into the shop, I had out grown my set-up.  I finally got around to giving it to him and had him bring it up to KTM 950 Adventure R height (265mm) like I should have done the first time.  That combined with the once again updated valving I was again amazed.  I sessioned a local motocross track with some friends and thought I was riding slow.  The picture taken by Wiel Penders, as shown up top, shows that I was just not used to the fresh suspension work.  I though I was going small, but was really hucking it big (for a 950).  It worked that well, that I didn't realize I was flying a KTM 950 Adventure.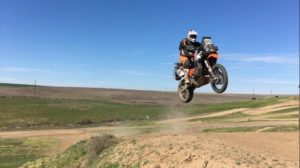 I was back out at the Stumpjumper Desert 100 in 2016 and really got to use my new suspension.  I was a little worried about transitioning from my 2009 Husqvarna TE450 (also with Konflict tuned suspension) back to the big KTM.  After just a few miles I was able to settle back in, with it's longer legs it was now really just a big dirtbike.  The bike was just a beast eating up the dual sport course on Saturday, once again I found myself airing it out on a motocross track.  On raceday it also performed incredibly well, I was able to crack the top three before other mechanical issues took me out of contention and left me pushing my bike back to the van.
Working at Touratech-USA I've had the opportunity to ride the full range of adventure motorcycles with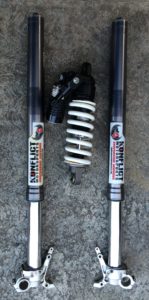 the best off-the-shelf aftermarket suspension available.  I never hesitate to recommend Konflict Motorsports to the guys that need that little personalized extra suspension tuning or to get their forks to match a Touratech rear shock.  Alex will not sell you more than you need, unless you really want it.  His work is second to none.  He cares about every job he does the same, be it a Dakar racer or the weekend warrior.  He will ask as many questions as needed to set-up each bike right for the rider.  Every motorcycle I own has visited his workshop, and I have always been happy with the result.  I truly doubt there is anyone in the world that can set-up the suspension on a big-bike for off-road use as well as him.  This is just my unsolicited two cents, I will continue to proudly fly the Konflict Motorsports decals on my fork tubes and shock.
Konflict Motorsports Contact Information
Phone: 425-681-5160
http://www.konflictmotorsports.com
https://www.facebook.com/konflictmotorsportsofficial/
Final Thoughts
For years I've said suspension is the best improvement anyone can make to their motorcycle.  In general the aftermarket options will be a huge improvement over stock.  A visit to Alex and Konflict Motorsports for a personal tune will set-up the game again.  Keep this in mind when you are trying to find a little more speed, the suspension and chassis might be hiding it, rather than the engine.  Good luck out there, have fun, and Godspeed.
-Eric Archambault