Owning a vintage Vespa has been on my bucket list for at least a decade now. The reason why that is seems to be a bit fuzzy even to me. I could go with it means I have finally come full circle, as my first two wheeled internal combustion vehicle was an early 1970's Vespa moped. I am pretty sure that isn't it, even with the nice bow it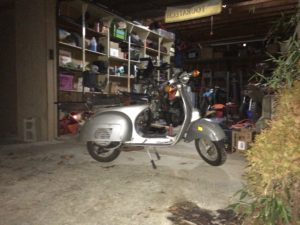 would put on the question. I think the core of the answer is found in the summers of 2005 and 2006. Fresh out of the US Marines I was back living in NH, but still had friends in Philly and Baltimore. They were into scooters, and I crashed quite a few scooter rallies on my Suzuki SV650 those summers. The weekends of blasting hundreds of miles down the eastern seaboard to party with scooter folk introduced me to what vintage Italian scooters really were, and the people that own them. The type of people that thrash, tune, and maintain 30-40 year old Italian scooters are generally proper fanatics. In short, these are my type of people. I'm a junkie when it come to pushing outdated two wheeled, petroleum driven machines. At the end of the day I liked their brand of the sickness, and wanted to get in on it.
For the past month I have been commuting on my new to me 1976 Vespa Sprint Veloce, and it has highlighted the other part of why I was drawn to this machine. To pause and add some depth for a second, I also own a 2005.5 KTM 950 Adventure (in full custom tuned 265mm of suspension travel "R" trim) and a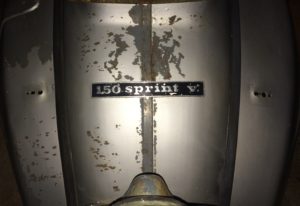 2009 Husqvarna TE450. Both are indisputably fine examples of open class machines in their respective classes. Why have I been spending the time on an outdated, four-speed, 150cc rotary-valve two-stroke, with suspension from the 1960's (debatably 1950's), and tiny 10" wheels? It is because I can go 10/10th almost everywhere, I can thrash this little Italian machine and demand everything out of it most of the time without going to jail. On either the Husky 450 or KTM 950 I could get to work quicker using them with the same judicious application of throttle, but I would likely also no longer have a license. On the Vespa Sprint Veloce I can go full bore all the time, mostly legally. The feverish tempo of the two-stroke song sounds the same in my ear as it does on a dirtbike, the pride in a quick shift, and even the thrill of keeping it pinned doesn't change much. The speed is less, but I don't get a chance to notice, since the chassis and suspension are also dated and providing feedback proclaiming their torment. Unlike like with a small motorcycle, improving this platform isn't a waste of time and money. It can be made into a definitive example of the breed, and that is something rare and special.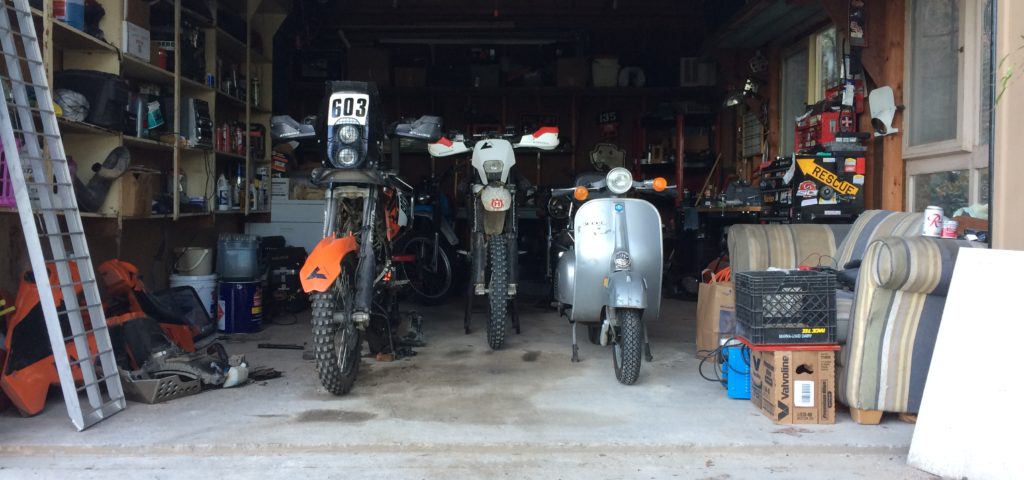 I bought my Vespa Sprint Veloce for a good deal from a friend, who knew full well the treatment it would receive in my hands. My treatment of mechanical things is no secret, those that I own are expected to deliver everything they can on demand, and that call is often. Oddly this is why I offered it, it was with the understanding it would be made the best it could be. If (or when) it explodes and dies a noble death, it will be resurrected to try again, to go faster. I bought it in good running, original condition (other than the lights not working), with less than 10,000 miles, and even the original paint (though slightly damaged and degraded) was worth keeping. My wishlist build sheet for this bike is already closing in on $2,000 worth of parts, and I am ok with this. On one hand I can say I will get most of my money back if I sold it after I did the work, but that is just the rationalizing of it. In truth, I am ok with the total cost. If it means having the scooter I really want, one with a no penny spared mechanical rebuild. That being a crank out rebuild, new bearings everywhere, new cables and other consumables, fresh upgraded suspension, a 12v electronic ignition, a big bore kit, a carb and expansion chamber to match. Pretty much a brand new, but better than left the factory in every way example, with the same tired old looking body. In hotrod circles this type of treatment is called a resto-mod, but I will be skipping a paint job. I am sure I will spend a year or two building it into the machine I want it to be. That is not going to stop the march of time, there are other more pressing plans for it too. I have an epic adventure planned for it this summer that I am not ready to discuss, racing is also on the roster, as well as normal daily use. It is currently filling both pit bike and vintage project bike roles in my garage. Right now I am sure it is winning on the smiles per dollar chart in my garage, I don't doubt it will still be a contender even after the planned few grand get poured into it.

My love for big-bore machines isn't going away, their is a special joy found in that game. I also still have a soft spot for the small stuff. Dancing with more power than you can handle on one machine is nicely balance by being able to squeeze everything out of another. The Sprint has it's work cut out for it. It will be a tale of glory followed by certain death, like Icarus it will fly too close to the sun and go down in flames. Unlike Icarus a phoenix like rebirth will occur in those fiery ashes and even greater glory will follow. I will keep everyone posted as things progress, it should be a long, fun process. If riding is getting stale for you, find something that makes you grin like a goon whenever you get off it. For me, the Sprint will be holding my attention for a bit. Good luck out there, have fun, and Godspeed.
-Eric Archambault