I have gone through thousands of dollars of riding gear since the turn of the new millennium. Some of it I rode into the ground (literally at times), others I outgrew, upgraded, or otherwise replaced. There are a few select pieces that have stayed around, often because of sentimental value, those examples are mostly relegated to living in the closet. Then there is my Thor Phase jacket circa 2000, still in active service.
I was given this jacket by my parents for Christmas in 2000 when I was 18 years old, a few months after I bought my 1985 Honda XR350R. This was not my first motorcycle, but it was my first reliable one, and undoubtable the one that cemented what has become a life long affair with motorcycles. This jacket has managed to follow me through the years, faithfully always ready for more. I trail rode and raced at locations up and down the east coast with it, then repeated that all over Washington later. I have worn it on a dozen different motorcycles, and somehow it still fits with the weight I have gained since high school.
It is not really anything special, a typical trail jacket for it's vintage. Understated in black and gray when compared to the loud, teal colored, Moose Racing offerings of the same era. Heavy Condora construction, with stout zippers, a few pockets, and sleeves that zipped off and could be stowed in the rear game pocket. It was not expensive either, around $100, but the quality and design has stood the test of time.
Recently I have started to realize how old my goto trail jacket is. The logo is outdated, I've owned it for a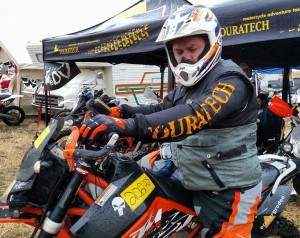 decade and a half, and it is still going strong. There is a burn on the inner liner from the hot exhaust, received during a mid-ride stop when I draped it over the tank of that old XR350R to remove the sleeves. It always brings a smile to my face. It is a reminder of the years of stories that are still being written with this jacket. When I raced for the first time I was wearing this jacket sans sleeves on that mighty 1985 Honda XR350R, at some East Coast Enduro Association race back in 2002. As I write this the last raced I was in, the 2015 25 Hours of Starvation Ridge, I wore it on a big KTM 950. All of those miles later, from a green horn to the seasoned rider I am now, all with the same jacket on my back.

It is always been on my gear shelf, and there is no retirement in sight, it is too good to die. Awesome gear does not need a huge price tag, though it often carries one. It is good to have the reminder of where you came from on your journeys forward. When you see that old piece of kit in your gear bag, take a moment to relive some the times with it. These are the silent friends that help mark time.  Have fun out there, good luck, and Godspeed!