Because Racebike…
A while back my buddies Adam and Jason were hanging out in my garage with me to preform a valve check and adjustment on Adam's KTM 990 Adventure. I have experience doing this job on my own KTM 950 Adventure, and have the special factory tools and shim set, as well as a pretty awesome garage. Anyways,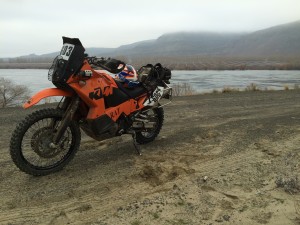 at some point in the job something spawned me to exclaim "Because Racebike." It might have been the weird sparkplug size or a hard to reach fastener, but the words were uttered, the phrase was out there. The rest of the afternoon (and well into the night) those words grew legs and were judiciously applied to everything on the bike that caused us to pause. KTM is very proud of their hard earned racing heritage, with "Ready to Race" as more than just a slogan, it is a core design ethic. This is backed by the piles of victories and titles that really drive the point home. As the proud owner of a KTM 950 Adventure I am quick to remind people that in 2002 the KTM 950R rallye bike (from which the KTM 950 Adventure is derived) won in such a dominating fashion (and at speeds deemed too dangerous) it was banned from future competition in that epic race. That type of performance, is all the reason I need to live with a slightly more intensive maintenance schedule.
The nickname of "Racebike" has been applied to myself, my battered KTM 950 Adventure, my Husqvarna TE450, and really any machine in my keep. At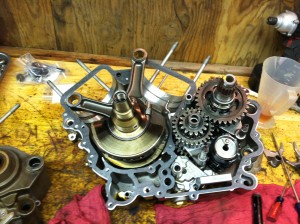 times it even overshadows the "RAT" nickname my KTM 950 has picked up due to the missing letters from the old "TOURATECH" decals on the tanks. Preparing the mighty KTM for the brutal Stumpjumper Desert 100 last year it kept coming up on the internet and in conversation, be it the center-stand being left on the garage floor, or the hot-wiring around a failing ignition switch. The question was asked if I could merely say "Racebike" when parts fell off my bike, or more duct-tape was applied to keep things on, the answer was "Racebike" once again.
"Because Racebike" isn't just applied to only debatably bad things. The things like poor fuel economy, short tire life, empty bank accounts, and long lonely nights wrenching in the garage. Competition derived machines normally are designed with the frequent required maintenance in mind. Their shop manuals are incredibly well written, parts are well marked (I have found in both vintage Husqvarna motocross bikes and modern KTM's to have clearly marked transmission gears to aid in servicing). As well as design considerations like found on the KTM LC8, with cams being gear driven from the timing chains and a bolt to lock the crankshaft during valve checks. Plainly put "Because Racebike" is not a dirty phrase at all. It is acknowledging, and accepting the cost of the performance that you expect and enjoy. It is why I grin when riding my bikes hard, and still have that grin on my face when maintaining them, making them better, to start the cycle with riding again.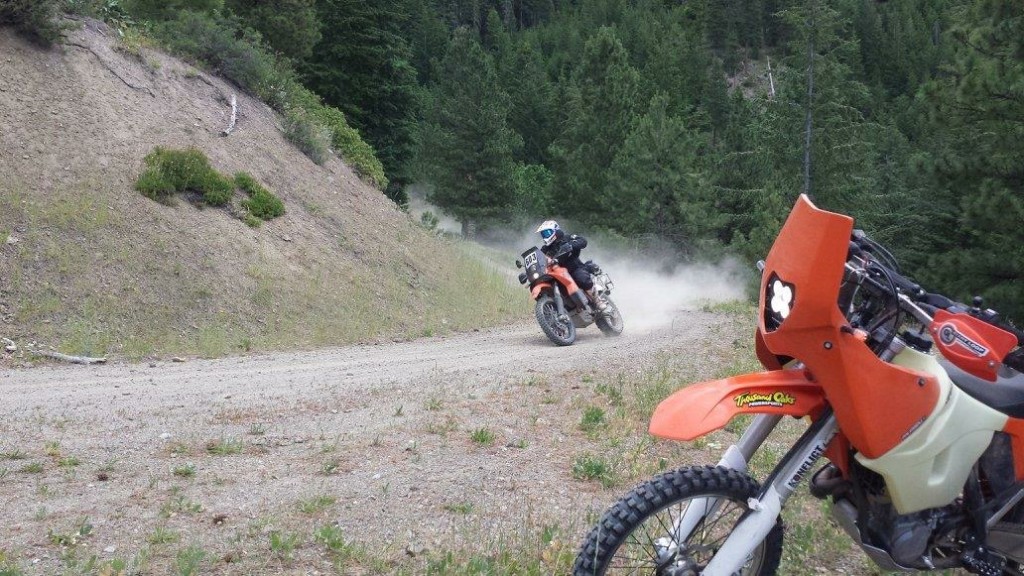 I intend to continue to use the phrase as both an excuse and explanation when consumables are consumed at alarming rates. When I break another part though continued use at the limit, and have a broken bike for weeks while replacement parts are on order. For those times when a wheelie or skidding to a stop seems to be required. When it is all said and done I ride motorcycles to have fun, and treating my motorcycles like race machines is what makes me happy. I will not lose any sleep over having to put in the hours on the maintenance side to get that extra power, or enjoy the lighter weight when riding. Have fun out there, good luck, Godspeed, and don't forget it just might be "Because Racebike!"
-Eric Archambault