An Introduction to Six-Zero-Three.com
What is this blog about?  What does Six-Zero-Three mean? Who's writing, and who's options am I reading? What have I stumbled upon?  All of these are valid questions that should be answered.
What is this blog about?
This blog is mostly about motorcycles, those of an off-road disposition mostly, both the lightweight race bred type as well as the larger adventure-touring variety.  The focus will likely also blur into other related things, other types of motorcycles, mechanical adventures of the four-wheeled assortment, travel, camping, snowboarding, and surfing.  This blog is in many ways a reflection of myself and my passions.  A way to share my experiences and stories to a larger audience than beers around a campfire.
What does Six-Zero-Three mean?
The Six-Zero-Three name is derived from the area code for New Hampshire, the state that I grew up in.  It is also the race number found on most of my motorcycles for the last decade, a nod to my roots.  Not that exciting I realize, but there you have it, mystery solved.
Who's writing am I reading?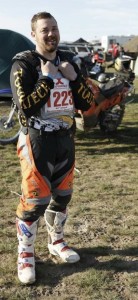 My name is Eric Archambault, this site is my doing.  I'll be writing most of the stuff found here, but I am sure down the road there will also be guest posts. First and foremost I am a motorcycle junkie.  I've worked in the motorcycle industry to some degree since 2005, and full-time since 2009.  I have always been drawn to motorcycles, and in my late teens I was able to start playing with two-wheeled, internal combustion machines.  It started with a Vespa moped, not a scooter, but an actual Italian market moped.  That summer I abused that poor machine on local mountain bike trails in Nashua, NH.  When I moved to actual motorcycles, a few years later, it was with on a 1979 Honda XR250R that someone had shoved a 1974 Honda CB360 engine.  I paid a mere $50.00 for that example of butchery.  It was more of a mechanical adventure than anything else. I pushed that thing out of the woods more times than I can count.  Since then it has been a blur of a few dozen vintage and modern motorcycles, both dirt and street focused.  Some were brand new, other were basket-cases, many fell between those two benchmarks.  There have been machines were rebuilt from the crank out, born again, and others that were ridden into the ground before finally being written off.  I've raced, done track-days, commuted, road tripped, camped off of the motorcycle, and relied on motorcycles as primary transportation.  I like to think over the better part of two decades and over one hundred thousand miles on motorcycles has dulled the "motorcycles are cool" shine, without making me a curmudgeon.  I've burnt out on motorcycles only to be itching to ride again in a few weeks.  At the end of the day few things make me as happy as riding and working on motorcycles.
What have I stumbled upon?
This may be the most important question of the four asked at the start of this post.  This is where I will share my adventures and experiences.  This will be by writing technical walk throughs and tips, product reviews, ride reports, and probably the occasional rant.  Motorcycles have been a large part of my life for most of it.  Being in the motorcycle industry has afforded me the opportunity to try all sorts of gear, ride different motorcycles, attend events, and ride places I doubt I would have otherwise.  That being said, at the end of the day, if I was working some other job, I would still have a garage full of motorcycles that I would ride as much as I could.  I'm that ridding buddy that has too many stories, rebuilt too many motorcycles, and still spends all of his money on motorcycles, but normally has the right flywheel puller for the weird bike you just dragged home.  More than anything else motorcycles are a passion for me, I want to share that with anyone who wants to grab a beer and pull up a chair.
Good luck out there, have fun, and godspeed.
-Eric Archambault